Welcome to the 6th edition of the
Follow Friday 40 and Over!!
Sponsored by nevergrowingold.blogspot.com
Are you a blogger over 40? Yeah, welcome to the club!
Please join in the fun and get to know your fellow bloggers!!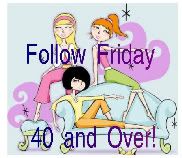 PostScript - I will follow anyone who follows me - but you won't see that happen until I return from an afternoon of together time with my husband. If I'm lucky, that could also extend into a candle-lit evening, in which case . . . I'll catch up with every comment, every follow and every participant tomorrow!